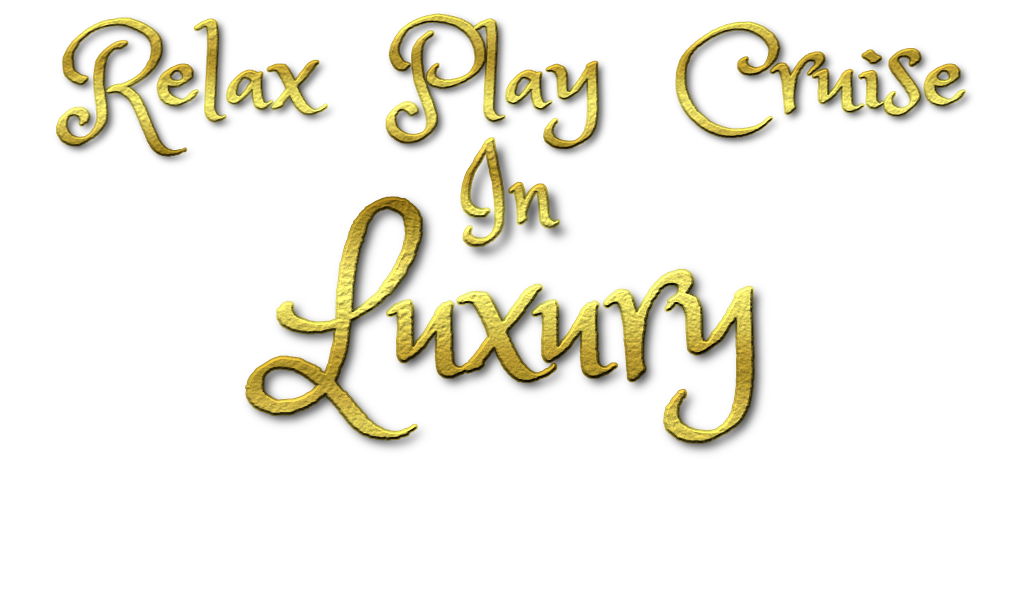 We invite you to experience luxury world class sailing on our classic 60ft Columbia sailing yacht. As you know Maui offers some of the most pristine and breathtaking waters on the planet, and there's no better way to experience it all than aboard your very own private charter on Island Star.
The next anchorage in your Island Paradise is always within sight and invariably as beautiful as the last. Whatever your desires, snorkeling, scuba, sailing Island Star will provide the vacation on a lifetime. The combination of gentle trade winds and pristine warm waters makes Maui the ideal place on earth to create a memorable charter adventure.
Where do you want to go? Just want a romantic sunset sail with your sweetheart? Or do you want to escape and adventure around all of the islands! Our experienced crew is eager to indulge your wishes and make it a memorable vacation. You can snorkel Maui's exquisite reefs and while searching for dolphins (and whales when in season). We encourage all our guests to get involved with the sailing aspect of our trips and allow everyone helm time if desired. Fishing lines are always out in hopes of catching an Ahi, Mahi Mahi or even an Ono, much to our crew's delight. Scuba diving is also available with proper notice. We have a complete galley on board where we have the ability to prepare scrumptious lunches such as a hot BBQ, a gourmet deli-style lunch, or fresh island grilled fish.
All of our crew are current in First Aid and C.P.R. as well as being Coast Guard licensed captains.

Most Popular Trip including Whale & Dolphin Watching (when in season)
Depart Ma'alaea Harbor for Coral Gardens or Olowalu, or any one of our local favorite snorkel spots. After an hour of sailing aboard the Island Star, we'll drop anchor near a beautiful reef, allowing for plenty of time to snorkel while your crew prepares your lunch.  Snorkel on pristine coral reefs with an abundance of tropical fish, a variety of colorful corals and the endangered Green Sea Turtles. After a hot lunch on deck, we set sail back to port.
We recommend this as a morning trip due to Tradewinds that tend to increase in the afternoons.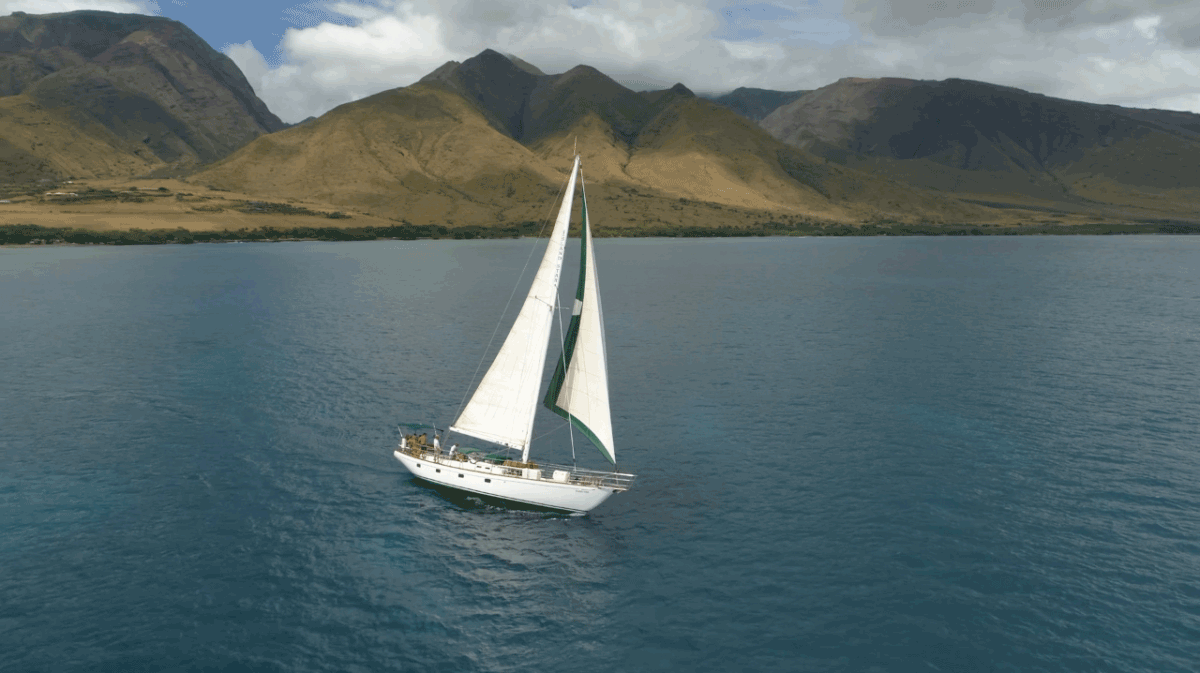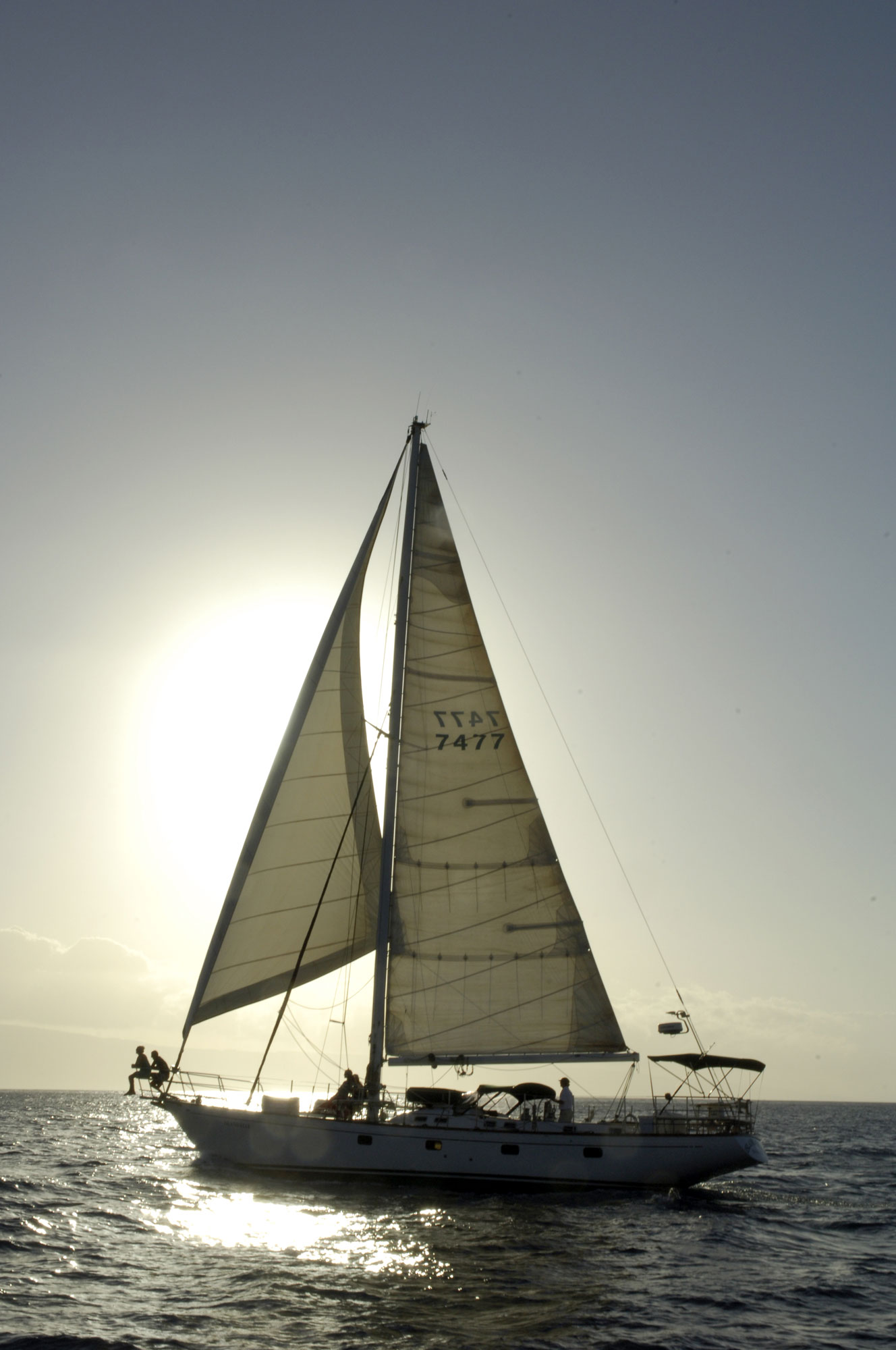 Set sail from Ma'alaea Harbor on Maui for a full day of sailing, snorkeling, and fun in the sun aboard the Island Star. Anchor on the south side of the island in a remote, protected area. Snorkel on pristine coral reefs with an abundance of tropical fish, a variety of colorful corals and the endangered Green Sea Turtles.
During our sail, we will be in constant search for the ever playful Spinner Dolphins and Humpback Whales when they're in season. The whales are seasonal visitors, arriving around the middle of December and remaining through the middle of May; if your trip occurs during these months, we will spend ample time observing these breathtaking giants.
The full day gives us the extra time to snorkel a second or third reef. After a full day of sailing, snorkeling, chef prepared lunch and sunbathing on deck, we'll return to the marina just in time for sunset at sea.

Join us for two hours of sailing around Ma'alaea Bay. Enjoy appetizers prepared by our onboard chef or catered by one of Maui's finer restaurants while you sip on your favorite beverages. The full galley below decks enables onboard meal preparation. Extend your trip an hour to accommodate a delicious dinner served on the aft deck. After viewing Maui's spectacular sunset at sea we return to port.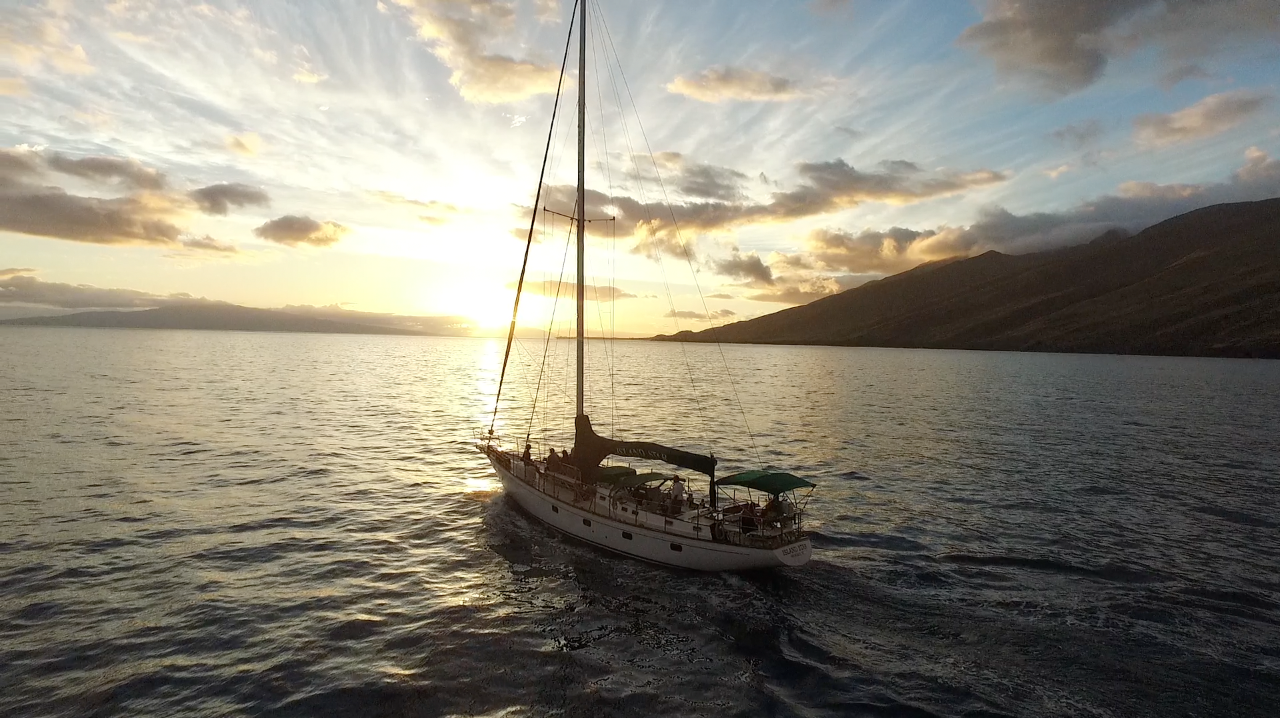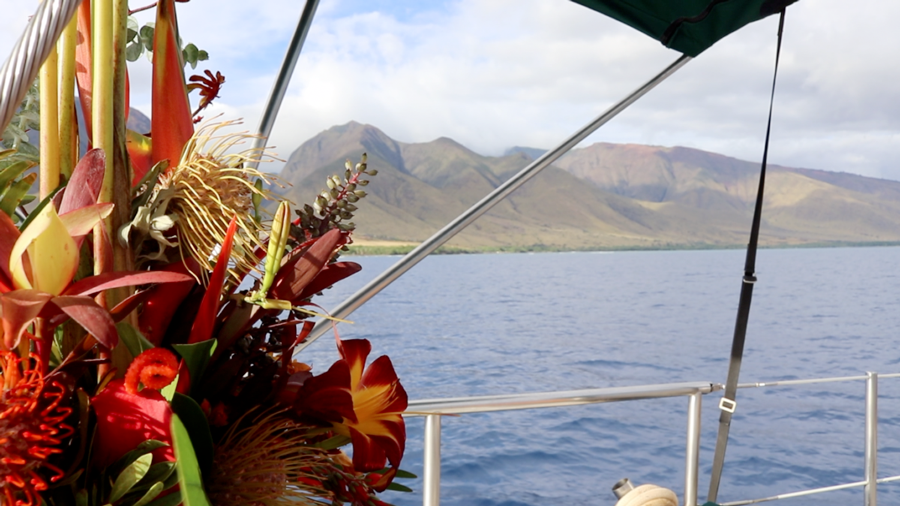 Island Star can cater to many different special events and our most popular a Maui Wedding and the Island Star makes for a perfect wedding site. We can provide you with wedding coordinators that we work with here on Maui, who can take care of all your needs. Our wedding sails are 3 hours. Arrangements can be made to HONEYMOON aboard the Island Star for your wedding night. The Island Star has a master stateroom featuring a deluxe king-size bed with an overhead light/hatch. Stereo speakers and a private shower and head, making it the ideal honeymoon suite. Island Star Sailing
Island Star Sailing Excursions
Slip #42 Ma'alaea Harbor
Wailuku, HI  96793
(808) 669-7827